The Rising Sun Richmond has a traditional Australian style. Accompanied with a lovely restaurant, events, functions, covered rooftop beer garden, a large TAB for gambling, bottle shop until 1:00 AM and meals available seven days in Richmond Melbourne from 11:30 AM – 9:00 PM.
The Rising Sun Richmond was established in the mid 1800's. Having celebrated the 150th year as a licensed hotel last year. Similarly, celebrating 20 years as our home since the hotel was purchased in 2000. With a new 20 year lease recently signed, this pub and the Riser community family aren't going anywhere.
---
MAKE A RESERVATION
Please make a reservation for the restaurant or the TAB area for any time on the booking form below. The front bar and the beer garden are for walk ins only, so we give every guest a fair chance. If you have a booking above 20 people, or would like to reserve the beer garden, then please email us or call us.



We are still hosting private functions in the downstairs function room as well as the upstairs rooftop garden. For any function queries, please contact us here.
---
RISING SUN RICHMOND IS NOW OPEN!
We are taking bookings! For reservations we kindly ask that you call us on 9427 9992. For functions and events; please fill in a contact form here. Our new roof top beer garden has to be seen to believed!
If you are a sports lover, we have 7 Foxtel boxes so we can guarantee your favourite match will be on.
---
So you're planning on hosting a big football party, birthday party, wedding party, family get together and any other type of event, but you need the right venue and advice? The Rising Sun Hotel is a fantastic option if you are looking to host an unforgettable event at a price that won't break the bank.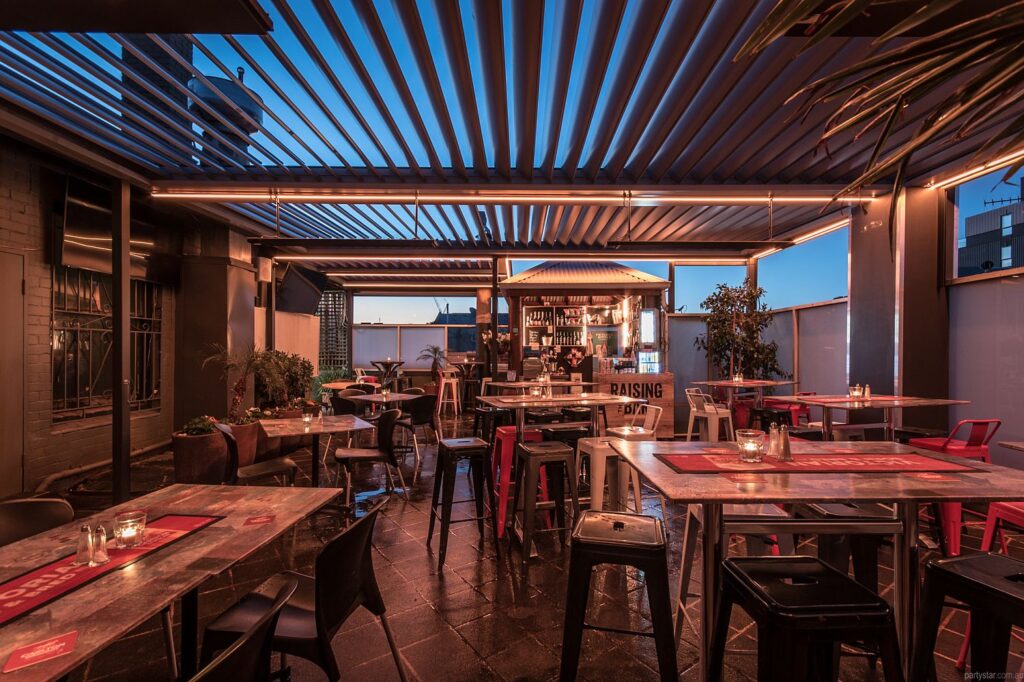 ---
The hotel offers up a bit of history to tell tales about around a fireplace (in the bar and restaurant) on a cold winter's day or an icy cold beer al fresco style on Burnley street, or even on the rooftop beer garden.
A brand new glycol beer system is on its way as we believe our beer must be perfect. The food on offer would be delicious, and the spirits would be as wonderful as the casual conversations around you. This would be a pub that you would long to return to.
RICHMOND'S RUBRIC RISING SUN TO RISE AGAIN
---